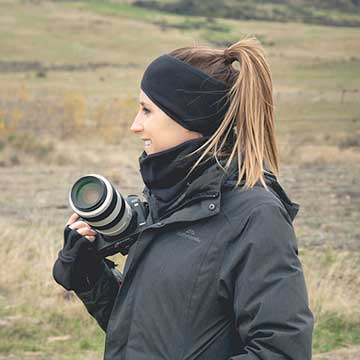 Based in Christchurch, Tammie is
John's
daughter
and grew up on a sheep and beef farm backing onto the Rakaia River.
After leaving home Tammie lived in Methven for a year to do the Outdoor Pursuits Course. This involved many activities: rafting, kayaking, rock climbing and snowboarding, alongside completing her open water scuba diver certificate and finishing the year with the infamous 3 pass tramping expedition.
She then went on to study contemporary photography, (just before cameras went digital) and afterwards ended up down the graphic design path. This lead to web design – three skills that complement each other well.
With Landlife Images always alongside it, in 2006 together with her husband Nick she bought a web design business. They sold the business in 2012 and went on a trip spanning several countries, starting in Hawaii and California, then onto parts of England and Italy – before visiting Amsterdam and Paris and finishing up in Canada. All offering some pretty amazing photo opportunities – luckily Nick is very patient! They have enjoyed travelling to several new places since; having visited Aitutaki and Rarotonga in the Cook Islands, Fiji, a Burton family trip on a houseboat up the Murray River in Australia and a trip to Texas in the USA.
What got you into photography?
I always enjoyed playing around with Dad's old Olympus OM-1 – probably more than he enjoyed processing films of blurry, badly exposed photos! We also had a family member who was a photographer and taught me a bit about how it all worked.
What sort of photography do you most enjoy?
Anything to do with weather! Landscapes and photo journalistic type stuff as well. Enjoy dabbling in a bit of food photography too lately.
Favourite places you've visited?
Montefalco in Italy, Aitutaki in the Cook Islands, the San Juan Islands, and recently the Chisos Mountains in West Texas.
What did you want to be when you were growing up?
A Photographer or Meteorologist. I wasn't strong enough in physics for the last one!
Top 3 favourite songs?
Simple Man by Lynyrd Skynyrd, Just Breathe by Pearl Jam and pretty much anything sung by Chris Cornell.
Tammie is currently working full time as a photographer and graphic designer for Landlife Images, offering both services. With 13 years working in web and graphic design, she has a range of experience from logos, flyers, booklets and business cards, to recipe books, posters, car/window signage and most other types of printed material.
Contact Tammie
Email: tammie@landlifeimages.co.nz