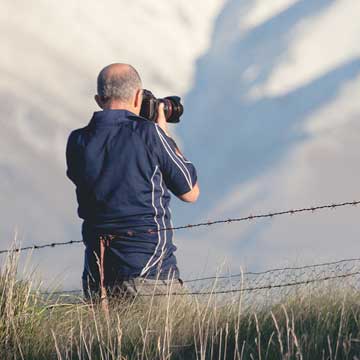 With a farming upbringing in the King Country and an Agricultural Science Degree,
John spent his early years working in water and soil conservation for the New Zealand government.
Sidelines involved photography, tramping, alpine climbing, fly fishing and learning to get by on French, Spanish, German (just) and Hebrew as he wandered the wide world for a couple of years. This included a year on an Israeli Kibbutz, followed by a variety of job types throughout Europe and Britain to raise the funds to return to paradise, ie. South Island, New Zealand. The call came in his thirties to leap off the plank and raise a family on (eventually) their own 1,000 acre farm in Canterbury, New Zealand. John and his wife Denise now graze dairy heifers on a smaller Canterbury farm run on biological farming principles.
Alongside the farm they run a charity together to help fund education opportunities for children in Cambodia. They go over to Cambodia once a year or so to help out in person and catch up with all the wonderful kids.
What got you into photography?
As a teen borrowed my sister's Konica, enjoyed processing in the darkroom. Liked trying to capture good action in good country-mustering, pig hunting, fishing. Later on mountaineering and mustering.
What sort of photography do you most enjoy?
On farm action and landscapes.
Most amazing place you've visited?
The summit of Mt Tasman in winter.
What did you want to be when you were growing up?
Older and more grown up.. Ha ha. It's true. Just wanted to always be learning.
Top 3 favourite songs?
MacArthur Park by Richard Harris, Light My Fire by The Doors and Fields Of Gold by Eva Cassidy.
In the last decade John has also regularly mustered Merino sheep in the South Island High Country, mustering stick in one hand, camera in the other and a team of working sheepdogs close behind. With daughter Tammie, John aims to share his enduring passion for this land and its life through authentic images of our beautiful country. John is currently busy with a few side projects (managing the stage 3 build of the Ashley Gorge Loop Track to name but one!), but you can still license and buy prints of his images around the website.