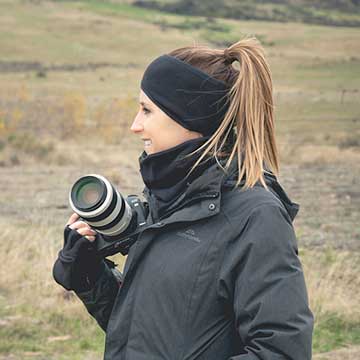 Based in Christchurch, New Zealand, Tammie has been creative from a young age and now works full time as a photographer and graphic designer for Landlife Images.
She grew up on a farm backing onto the Rakaia River and left home for her last year of high school, moving to Methven (Mt Hutt Village) for a year to do the Mount Hutt Outdoor Pursuits Course. This involved many activities from rafting, kayaking, rock climbing and snowboarding, to completing her open water scuba diver certificate and finishing the year with the infamous 3 pass tramping expedition.
Tammie then went on to study contemporary photography, (just before cameras went digital) and afterwards ended up down the graphic design path. This lead to web design – three areas that complement each other.
Aside from photography and design she enjoys travelling with her husband Nick to warm countries (when the opportunity arises!), hanging out with her dog, running, books, dabbling in a tiny bit of interior design, her vegetable garden and anything house plant related. The house is becoming a bit of a rainforest!
What got you into photography and graphic design?
I always enjoyed playing around with Dad's old Olympus OM-1 – probably more than he enjoyed paying to print many blurry, badly exposed photos! We also had a family member who was a news photojournalist and taught me a bit about how it all worked. Then after studying photography I decided to look at graphic design, as both industries tie in with each other and it was another creative outlet.
What sort of photography do you most enjoy?
Anything to do with weather! Landscapes and photo journalistic type stuff as well. I'm currently exploring the world of NFTs/digital art too which has been interesting! (Link to my Opensea profile here if you're interested.)
What sort of design do you most enjoy?
I love the sort of jobs where I have free rein to be creative. But in contrast, I also enjoy the sort of ongoing work that many companies need month to month; newsletters and advertisements for print and digital to name a couple.
Favourite places you've visited?
Montefalco in Italy, Aitutaki in the Cook Islands, the San Juan Islands off the coast of Washington, and the Chisos Mountains in West Texas were pretty amazing.
What did you want to be when you were growing up?
A Photographer or Meteorologist. I wasn't strong enough in physics for the last one!
Top 3 favourite songs?
Simple Man by Lynyrd Skynyrd, Just Breathe by Pearl Jam and pretty much anything sung by Chris Cornell.
Tammie is not currently taking on new photography or design projects, but you can still license digital images and order photo prints. With 17 years working in these two industries, she has a range of experience from integrating photography into a marketing campaign, logos/branding, flyers, booklets and business cards, to book design, posters, vehicle signage, billboard design and photography and most other types of printed and digital material.